Additional Items Revealed for "A Life in Racing" Gooding & Company's Second Phil Hill Automobilia Collection Sale on February 8–19, 2021
The second of three automobilia sales include pieces from the successful career of racing legend Phil Hill, including Grand Prix trophies, helmets, and commemorative watches.
Santa Monica, Calif. (January 28, 2021) – Gooding & Company, the acclaimed auction house celebrated for selling the world's most significant and valuable collector cars and automobilia, is thrilled to announce several additions to its second Geared Online Phil Hill Automobilia Collection from February 8 – 19, 2021. The first of the three sales dedicated to Phil Hill saw an immensely successful 100% sell-through rate from 242 lots. The second of the three auctions will focus on the celebrated competitor's life in racing. In total, over 300 lots from the life and successful racing career of Phil Hill, will be available for the first time ever at public auction from February 8 – 19. The company's third and final Phil Hill Automobilia Collection sale will last from March 15 – March 26, 2021.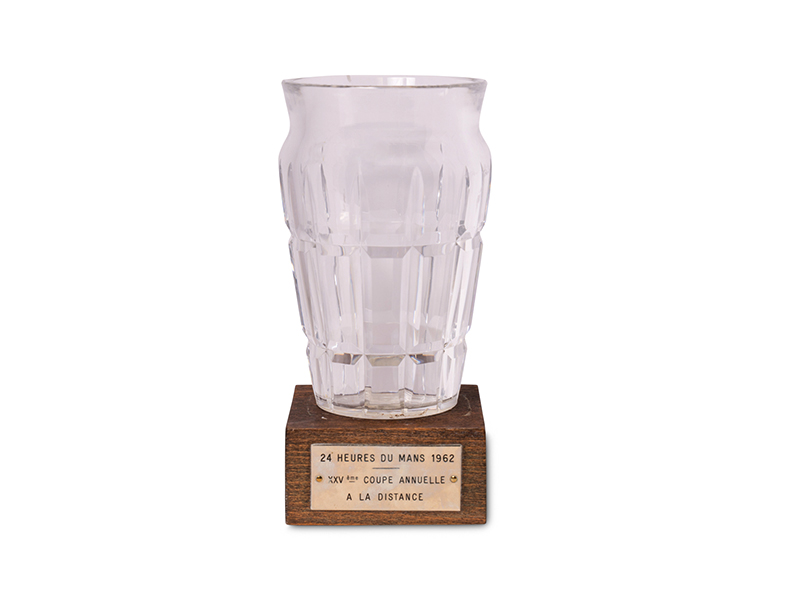 Notable additions include a Herbert Johnson Racing Helmet (Estimate: $80,000 – $110,000), worn by Phil Hill during his maiden overall victory in the 1958 Le Mans 24 Hours, among several other key races in his incredibly racing career including many notable Grand Prix races as well as sportscar racing. The racing helmet is accompanied by Hill's helmet bag, visors, and goggles from his early Grand Prix career. Additional highlights presented in this automobilia sale are Phil Hill's Le Mans 1962 Winner's Trophy (Estimate: $20,000 – $40,000) and Shelby Cobra Team Jacket, c.1963 (Estimate: $20,000 – $30,000). A variety of timepieces are also included in this second sale. A Rolex 'Zenith' Daytona ref. 16520 (Estimate: $30,000 – $50,000) with inscription "1993 Daytona 24 Hours Winner" on the caseback is offered with its original box, manuals, and sales certificate. Another incredible watch, a Rolex Datejust ref. 16234 (Estimate: $5,000 – $7,500), was awarded to Hill at the 2003 Le Mans 24 Hours to honor his contributions and achievements to the legendary race. This outstanding watch has the "Spirit of Le Mans" inscription on the back and comes with its box, manuals, sales certificate, and spare wristband links.
About Phil Hill
Phil Hill is widely regarded as one of the most famous racing drivers of all time. Born in Santa Monica, California, he began competing in local Southern California sports car events, quickly rising to fame and eventually joining the Scuderia Ferrari racing team. With Ferrari, Hill won the 1961 Grand Prix Championship and was a three-time winner of both the 24 Hours of Le Mans and 12 Hours of Sebring, among other races. He later raced for two of America's most famous racing teams – Shelby American, Ford (as part of the GT40 program), and Jim Hall's Chaparral team. In addition to his distinguished and successful racing career, Hill was a student of automotive history, a passionate collector, and a talented restorer. He collected a wide variety of prewar American antiques and prestigious European classics, established the world-famous restoration shop Hill & Vaughn, and won multiple Best of Show trophies at the Pebble Beach Concours d'Elegance®. From his time on ABC's Wide World of Sports, to vintage racing at the Monterey Historics, to being a regular contributor to Road & Track magazine, Hill was actively involved in the automotive world throughout his entire life.
All images copyright and courtesy of Gooding & Company. Photos by Mike Maez.